Swine Automatic stunning system model RES 2000 up to 600 animals/h.
The autometic stunning system called RES 2000 was designed in order to complety eliminate the problem of animals broken bones and capillary, to ensure pH constant values, and to save workmanship by fully automatising all the operations carried out by the personnel in charge of animals feeding and stunning.
RES 200 key element is represented by animal stunning, which is carried out by a computerised system allowing to chek and change all parameters so as to achieve inconparabile results on the final product.
RES 200 allows stunning swines of all weights and sizes.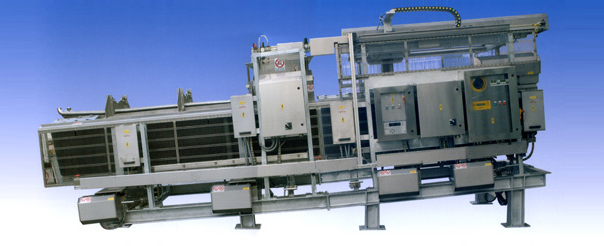 Automatic stunning RES 2000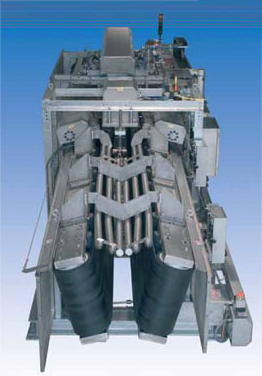 Swine entrance with capile-type containment system
RES 2000 consists to:
Two sets of conveyor belts (feeding belt and stunning belt) conveying the animals to the stunning area without any stress of excitement;
Feeding belts made of highly-resistant polyurethane reticular rubber ensuring perfect washing and improved animal immobilisation;
Machine mechanical parts were designed and manufactured to ensure max. sturdiness and reliability along time;
Moving electrodes carriage for animal stunning;
Motor-driven belts opening/closing slides;
Electrical system with PLC AS-I interface;
Graphic control panel;
Stunning switchboard TS700;
Running board to be used in case of a mechanical failure;
Stunning trap (optional);
Caliper-type swine containment system.
In compliance with EEC 93/119 DIRECTIVE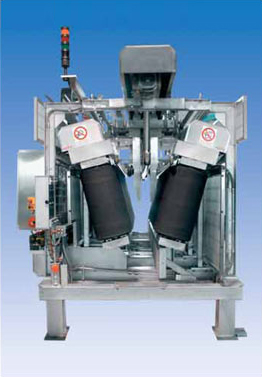 Stunned swine exit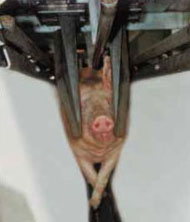 Electrodes perfect contact with animal head