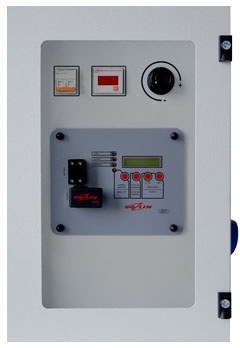 TEQ002 electronic stunner for animal stunning through electronarcosis was designed to:
Permanently eliminate the microhemorrhages and damages to body organs;
Make work easier and reduce manpower;
Have an untroubled slaughtering cycle, relaxed animals, and easy hooking;
Prevent animal stiffness;
Have an easier and perfect jugulation;
Have a greater bleeding;
Ensure lower PH values and consequently, a higher quality level
It also allows storing the main electric parameter details for each single stunned animal, in full compliance with 1099/2009 EC regulation. .
Technical Specifications:
IP55 waterproof containment panel made of coated steel, 40 x 60 x 20 cm;
Electronic microprocessor system storing main stunning parameters;
Portable memory device able to store thousands of data;
Wireless computer connection for data displaying and printout;
Display showing stunning current;
Button to setup the animal species to be stunned;
Button to store batch change;
Date and time setup;
Twin-function audible and light indicator:

Current min. level reaching indication;
Alarm for failure to reach current min. threshold;

Electric panel with insulation and safety transformer in compliance with IEC 14-6 standards secondary insulation class above 3 KW;
Protection against overload and short circuit on tongs and transformer supply circuit;
Regulation of output voltage shown on the display (VOLT);
Electronic device measuring animal impedance and preventing operation in the event set current value cannot be reached;
16A 2-pole IP65 waterproof IEC socket for tongs connection;
Suitable for use with tongs part no. TL002 and pincers part no. PZ004, PZ004L, PZ004C.