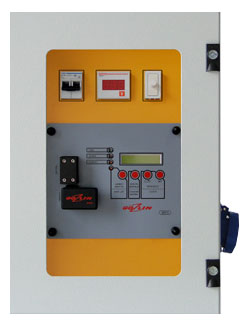 TSQ003 electric stunner is an effi cient and practical tool for swine, sheep, bird and rabbit, and fish stunning through electronarcosis.
It also allows storing the main electric parameter details for each single stunned animal, in full compliance with 1099/2009 EC regulation.
Technical Specifications:
IP55 waterproof containment panel made of coated steel, 35 x 50 x 20 cm;
Electronic microprocessor system storing main stunning parameters;
Portable memory device able to store thousands of data;
Wireless computer connection for data displaying and printout;
Display showing stunning current;
Button to setup the animal species to be stunned;
Button to store batch change;
Date and time setup;
Twin-function audible and light indicator:

Current min. level reaching indication;
Alarm for failure to reach current min. threshold;

Electric panel with insulation and safety transformer in compliance with IEC 14-6 standards secondary insulation class above 3 KW;
Protection against overload and short circuit on tongs and transformer supply circuit;
Electrical regulation of output voltage shown on the display (VOLT);
Electronic device measuring animal impedance and preventing operation in the event set current value cannot be reached;
16A 2-pole IP65 waterproof IEC socket for tongs connection;
Suitable for use with tongs part no. TL002 and pincers part no. PZ004, PZ004L, PZ004C.