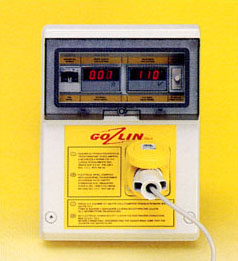 Animal stunners
These are the most modern, efficent and pratical instrumental for the stunning of swine, sheep, birds, rabbit and fish by means of electro-narcosis. It is in full accordance with the EEC Directive n. 93/119 that is assimiled into the legislation of all members states.
Electrical control board, watertight IO65 in polycarbonate;
Electrical board fitten with a transformer with insulation and safety in accordance with norms CEI 14-6 with level of secondary insulation for masses greater than 3KW - Power 200VA;
Overload and short-circuit protection on the pincers end on the transformer supply;
Fitted with electronic regulation of output tension shown on the display (VOLT);
Fitted with a display showing the current intensity used (AMPERE);
Fitted with acoustic device showing the time of application on the animal;
Fitted with electronic device, which measures the animal impedance and prevents the operation if the prescribed current is not sufficent for a proper stunning thus ensuering the maximun safety for the operator;
16A two-pole plug, watertight IP67 and in accordance with norms IEC309 for the connection of pincers;
Transformer suitable for use with : Pincers art. TL002 - Pincers art. PZ004, PZ004L, PZ004C - Stunner art.ST005;
Size and dimensions for TS003: cm. 28 x 37 x 14. Weight Kg. 6.