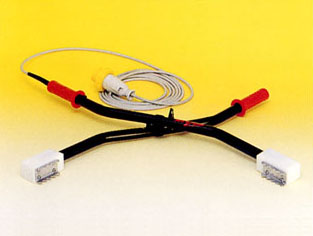 Animal stunners
These are the most modern, efficent and pratical instrumental for the stunning of swine, sheep, birds, rabbit and fish by means of electro-narcosis. It is in full accordance with the EEC Directive n. 93/119 that is assimiled into the legislation of all members states.
Made out of nylon-clad steel forfood-industry application;
Electrodes in stainless-steel;
Perfect contact of the electrodes onthe animal;
The opening of the pincers is manually adjustable;
16A two pole plug, watertight IP67 and in accordance with norms IEC 309 for the electrical connection to the transformer;
5 metre suplly cable in accordance with CEE norms.